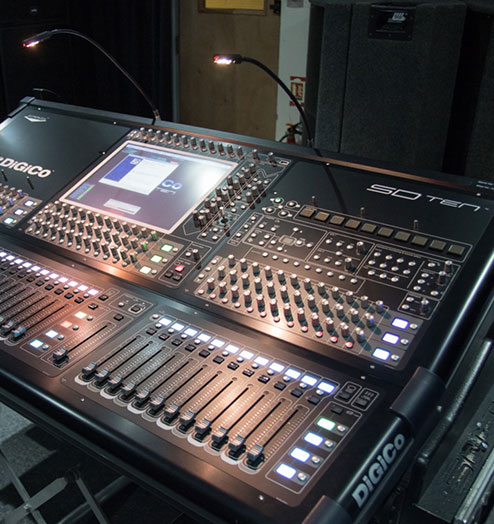 About this item
With 144 processing channels at 48kHz/96kHz, the SD10 packs the muscle to handle the most challenging of shows.
Standard channel processing across inputs and outputs includes Channel Delay, Single and Multi-Channel Presets, Dual insert points, Hi- and Lo-pass filters @ 24dB/octave, four-band parametric EQ with band curve selection and DiGiCo's renowned DYN 1 (Compressor, De-esser or Multiband Compressor) and DYN 2 (Gate, Compressor or Ducker).
You will also benefit from 218 Dynamic EQ processors, all of which can be assigned to any input or output channel, delivering dynamic processing over the four standard parametric bands, plus 218 Multiband Compressors and 218 DiGiTuBes.
All channels deliver the same pure signal path and feature set, so no matter how you set up your console, you never lose any resources. Within the master section are 24 gangable 32-band graphic EQs, 24 stereo effects (selectable from a palette of 33), and 24 control groups (VCAs). Using snapshots, engineers can switch between complete configurations at a touch.
In addition, the SD10's 64 busses can be configured as groups or auxiliary busses, while even more configurability is delivered by a 24 x 24 output matrix, dual solo busses, and a Master buss. Unlike all other digital console manufacturers, you don't lose Aux or Group Busses when using the Matrix as they are in addition, including the Master buss.
Product description
144 Input Channels
64 Aux / Sub-Group Busses
LR/LCR/LCRS/5.1 Master Buss
24 x 24 Full Processing Matrix
218 Dynamic Equalizers
48/96kHz Sample Rate